Hunger Strike at the University of Kurdistan
May 12, 2010
According to Daneshjoo News, on May 12, 2010, students at the University of Kurdistan went on hunger strike to protest the inhuman execution of Farzad Kamangar, Shirin Alam Hooli, Farhad Vakili, Mehdi Eslamian, and Ali Heydarian.  To demonstrate their protest, the students left their uneaten lunch in the cafeteria or outside the school building.
After the executions on May 9, 2010, there has been a heavier presence of security forces at the University of Kurdistan. A number of activists have been confronted with phone calls by anonymous forces who have threatened them with arrest.
Translation by Persian2English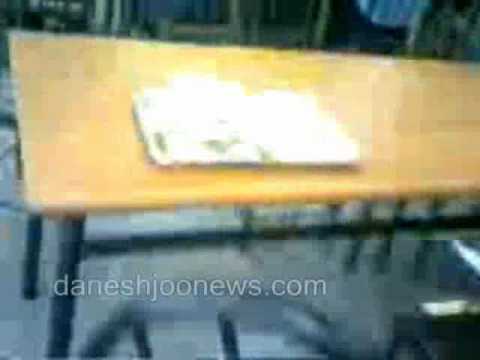 دانشجویان دانشگاه کردستان در اعتراض به اعدام غیرانسانی ۵ زندانی سیاسی اعتصاب غذا کردند

چهارشنبه, ۲۲ ارديبهشت ۱۳۸۹

امروز دانشجویان دانشگاه کردستان با شکل دادن یک حرکت اعتراضی و اعتصاب غذای عمومی نسبت به اجرای احکام اعدام فرزاد کانگر و 4 فعال کرد دیگر اعتراض کردند.

به گزارش دانشجونیوز، امروز دانشجویان دانشگاه کردستان در اعتراض به اعدام های غیرانسانی فرزاد کمانگر، شیرین علم هولی، فرهاد وکیلی، مهدی اسلامیان و علی حیدریان اعتصاب غذا کردند. دانشجویان معترض ظروف غذای خود را به نشانه نافرمانی مدنی دست نخورده بر روی میزهای سلف می گذاشتند و یا در محوطه خارج از سلف می گذاشتند.

این اعتراض مدنی دانشجویان عکس العمل عوامل حراست درپی داشت به گونه ای که عوامل حراست مستقیما وارد عمل شده و اقدام به جمع آوری این ظروف غذا می کردند.

گفتنی است در پی اعدام کمانگر و 4 تن دیگر و از ترس بروز اعتراضات دانشجویان، فضای امنیتی بسیار شدیدی بر فضای دانشگاه حاکم شده است. به گونه ای که برخی از فعالین تا این لحظه از جانب نیروهای ناشناس خارج از دانشگاه و طی تماس های تلفنی تهدید به بازداشت شده اند.
Leave a Response