Take Action | Jailed Iranian blogger requires immediate surgery, denied prison leave
April 01, 2011
April 1, 2011, Persian2English – The father of 24 year old jailed Iranian blogger and computer expert Hossein Ronaghi-Maleki (a.k.a. Babak Khoramdin) told Radio Farda on March 29th that his son is in grave condition in Evin prison because he "suffers from kidney problems and needs to undergo surgery immediately."
Hossein was arrested along with his brother on December 13, 2009 at their parents' home in the Eastern Azerbaijan province during an operation to "dismantle a counterrevolutionary network."  Reports indicate that Hossein had "written and used software to combat filtering and to host and support websites and blogs that defend human rights." His brother was later released on an $80 thousand (USD) bail.
Hossein is charged with "Membership in the Iran Proxy internet group", "Propaganda against the regime", and "Insulting the Supreme Leader and the President". In December 2010, one year after his arrest, a 15-year prison sentence issued earlier for the blogger was finalized by the Islamic Republic Appeals Court. According to reports, Hossein's lawyer and family were not present at the court when the sentence was issued. Hossein was originally sentenced on October 3, 2010 by branch 26 of the Revolutionary Court. Hossein was not permitted to read the verdict, but after he was beaten by [regime] officials, he was forced to sign it.
Reporters Without Borders said that this is the heaviest sentence for a blogger to date after the 19 and a half year sentence given to another blogger, Hossein Derakhshan.
On May 24, 2010, Hossein was transferred to the IRGC-run ward 2A solitary confinement in Evin prison.  Three days later, he launched a hunger strike to protest his detention and lack of medical treatment. According to the RAHANA group, while in solitary confinement, Hossein was under continuous pressure to make false confessions on the unfounded charges against him. According to his father, Hossein had no health issues prior to imprisonment. His kidney had reportedly become infected while held in solitary confinement.
In December 2010, after his prison sentence was upheld, he was transferred to the general ward 350, where he is currently held. A month later, his family travelled to Tehran and requested prison leave from judicial officials for their son to receive medical treatment. The request was denied despite the fact that, a week earlier, the prison clinic staff confirmed that Hossein requires hospitalization. Hossein's father believes that a main reason why the judicial authorities have not allowed prison leave is because Hossein has refused to give any false confessions.
In February 2011, the HRANA group reported that the Ministry of Intelligence ordered the removal of Hossein's infected kidney, even though the Evin prison doctors have said that a laser operation on his kidney would allow for it to function again without removal.
Take Action in 4 Steps!
1. Join the event to save Hossein Ronaghi Maleki's life!
2. Join the Hossein Ronaghi Maleki Facebook group
3. Sign the petition to free Hossein Ronaghi Maleki
4. COPY THE ABOVE REPORT AND EMAIL TO WORLD POWERS AND THE MEDIA
UN Officials and Heads of Government
npillay@ohchr.org, urgent-action@ohchr.org, inquiries@un.org, info_leader@leader.ir, sg@un.org, m@minbuza.nl, beatriz.lorenzo@maec.es, michael.spindelegger@bmeia.gv.at, bernard.kouchner@diplomatie.gouv.fr, guido.westerwelle@auswaertiges-amt.de, minister@dfa.ie, registrator@foreign.ministry.se, info@eda.admin.ch, Cannon.L@parl.gc.ca, haguew@parliament.uk, legalizar@itamaraty.gov.br, pm@pm.gc.ca, kab.bz@diplobel.fed.be, external@utn.stjr.is, gabinetto@cert.esteri.it, stewartkb@state.gov, wgad@ohchr.org, s.s.ali@warwick.ac.uk, avaei@Dadgostary-tehran.ir
Foreign Ministries and the US State Department
michael.spindelegger@bmeia.gv.at, kab.bz@diplobel.fed.be, info@mvp.gov.ba, iprd@mfa.government.bg, imprensa@itamaraty.gov.br, ministar@mvpei.hr, minforeign1@mfa.gov.cy, podatelna@mzv.cz, udenrigsministeren@um.dk, vminfo@vm.ee, umi@formin.fi, bernard.kouchner@diplomatie.gouv.fr, inform@mfa.gov.ge, guido.westerwelle@auswaertiges-amt.de, gpapandreou@parliament.gr, titkarsag.konz@kum.hu, external@utn.stjr.is, minister@dfa.ie, gabinetto@cert.esteri.it, segreteria.frattini@esteri.it, mfa.cha@mfa.gov.lv, tonio.borg@gov.mt, secdep@mfa.md, post@mfa.no, DNZPC.Sekretariat@msz.gov.pl, ministro@mne.gov.pt, senec@mne.gov.pt, pm@pm.gov.pt, msp@mfa.rs, miguel.moratinos@maec.es, registrator@foreign.ministry.se, info@eda.admin.ch
Media
nightline@abcnews.com, evening@cbsnews.com, earlyshow@cbs.com, 60m@cbsnews.com, 48hours@cbsnews.com, ftn@cbsnews.com, info@cnbc.com, dateline@nbcuni.com, hardball@msnbc.com, joe@msnbc.com, nightly@nbc.com, today@nbc.com, newshour@pbs.org, ombudsman@npr.org, city@thestar.ca, readers.rep@latimes.com, letters@latimes.com, letters@nytimes.com, Bruce.Wallace@latimes.com, Mark.McGonigle@latimes.com, news-tips@nytimes.com, foreign@nytimes.com, nytnews@nytimes.com, editor@usatoday.com, wsj.ltrs@wsj.com, letters@washpost.com, ombudsman@washpost.com, letters@newsweek.com, letters@time.com, letters@usnews.com, info@ap.org, tips@upi.com, red@berlingske.dk, redaktion@faz.de, redactie@volkskrant.nl, ole.erik.almlid@aftenposten.no, bjorn.hedensjo@dn.se, redaktion@tages-anzeiger.ch, foreign.news@thetimes.co.uk, robert.tait@guardian.co.uk, simon.jeffery@guardian.co.uk, redazione.tg5@mediaset.it, redazione.studioapertorm@mediaset.it, skytg24.redazione@skytv.it, segreteria_roma@repubblica.it, roma@lastampa.it, esteri@liberazione.it, segreteria@unita.it, lorenzocairoli@hotmail.com, redazione@ilmanifesto.it, nadiapizzuti@gmail.com, nadia.pizzuti@ansa.it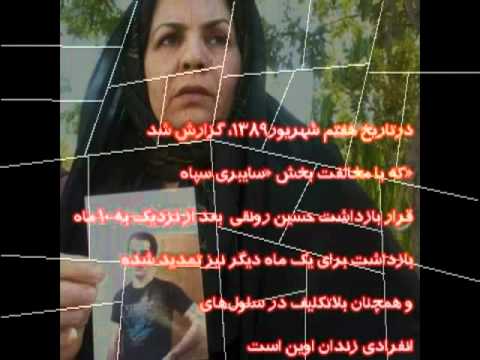 حسين رونقی، وبلاگ نويس ، در تاريخ ۲۲ آذر ماه ۱۳۸۸ بازداشت و چندين ماه را در سلول‌های انفرادی زندان اوين تحت فشارهای جسمی و روحی شديد گذرانده است. او در نهايت به ۱۵ سال زندان محکوم شد. وی هم اکنون در بند ۳۵۰ زندان اوين دوران محکوميت خود را می گذراند.

چند روز قبل خانواده او بار ديگر اعلام کردند حسين رونقی در زندان از درد شديد کليه رنج می برد و از اين رو نگران جان فرزندشان هستند.

راديو فردا در گفتگويی با احمد رونقی ، پدر حسين رونقی در ابتدا از او در مورد وضعيت جسمی پسرشان پرسيده است.

احمد رونقی: درمورد وضعيت جسمی شان، خيلی وقت است که يکی از کليه هايش عفونت کرده، و می بايست هر چه سريعتر تحت عمل جراحی قراربگيرد، بايد به بيمارستان منتقل شود، تا کنون اين کار انجام نگرفته است.

تا کنون در اين باره خيلی به مسئولين قضايی و مسئولين زندان مراجعه کرده ايم. کسی به ما جواب قانونی نداده که به بيمارستان منتقلش کنيم.

از چه زمانی کليه ايشان دچار مشکل شده است؟

ايشان ۳۷۶ روز در زندان انفرادی بود. اين مشکل از زندان انفرادی برايش پيش آمد.

شما ساکن تهران نيستيد. چطور شده است که حسين را به زندان اوين برده اند و در شهر خودش در زندان نيست؟

مامورين آمدند از اينجا بردنش. اتهاماتی هم که به او زده اند را حسين قبول ندارد. موقعی که در شعبه ۲۶ ايشان را جا به جا می کردند، حکمی را که به ايشان ابلاغ کرده اند، نه در حضور وکيلش بوده و نه ما حضور داشتيم.

با تحت فشار گذاشتن حکم را به ايشان ابلاغ کرده اند. برايش ۱۵ سال حبس بريده اند. حسين يک بچه بيش نيست. حسين يک بچه سالم است. واقعا من بابت اين اتهاماتی که به او زده اند متاسفم.

دقيقا موارد اتهامی به ايشان چيست؟

آنقدر اتهامات به او وارد کرده اند که ما در آن مانده ايم. سر گروه بودن، آدم استخدام کردن، فراری دادن افراد سياسی منطقه، ما ازاينها خبر نداريم. روح پسرم هم از اين حرفها خبر ندارد. پسر من يک بچه دانشجوست.

آقای رونقی، آيا حسين وکيل هم دارد؟

بله.وکيل دارد. وکيلش آقای دادخواه است. تا کنون به آقای دادخواه اجازه نداده اند که برود موکلش را ببيند. يک بار به زندان رفته و امضا وکالتش را گرفته است و فقط يکبار هم او را در دادگاه ديده است.

حسين چندين بار درخواست کرده که می خواهم وکيلم را ببينم. اجازه نداده اند. از مسئولين قضايی و مقامات جمهوری اسلامی تقاضای رسيدگی به مسئله بی گناهی فرزندم را دارم. تا کنون اجازه ملاقات حضوری به ما نمی دهند،به ايشان مرخصی نمی دهند.

يعنی از روزی که به زندان افتاده تا به امروز به ايشان مرخصی نداده اند؟ حتی ملاقات حضوری به شما نداده اند؟

نه ، اصلا مرخصی نداده اند. چندين بار هم درخواست کرديم ولی مرخصی به ايشان ندادند. برای اعزام کردنش به بيمارستان هم هنوز نتوانسته ايم اقدام کنيم که ايشان را به بيمارستان منتقل کنيم و تحت عمل جراحی قرار بدهيم.

حتی متخصصين هم صحبت کرده اند که اگر هر چه سريعتر ايشان تحت درمان قرار نگيرد، آن يکی کليه اش هم عفونت می کند.

فکر می کنيد دليل اينهمه سخت گيری که مسئولين قضايی و امنيتی برای درمان کليه حسين اعمال می کنند به خاطر چيست؟

به اين دليل است که حسين را تحت فشار گذاشته بودند که بايد مصاحبه کند. اما او گفت بود من چه مصاحبه ای بکنم؟ می خواهند او را تحت فشار بگذارند که مصاحبه بکند و ايشان هم مصاحبه نمی کند. می گويد من اين اتهامات را قبول ندارم. اين کارها را نکرده ام که بخواهم مصاحبه کنم.

الان بازجوها هستند که تصميم می گيرند. ما دردمان را به چه کسی بگوييم؟ نظر خودم هم نبود که مصاحبه کنم. ولی چون فرزندم را تحت فشار قرار دادند و الان جان فرزندم در خطر است، مجبور شدم به حضرتعالی جواب دادم.

چندين بار از رسانه های مختلف به من زنگ زدند، من جواب ندادم. ولی مرا به عنوان يک توپ فوتبال، او می اندازد و اين می گيرد ، می آيم تهران کسی به من جواب نمی دهد. نمی گويند اين پول را اين بنده خدا از کجا درمی آورد کيلومترها می آيد تهران؟ می آيد با اين همه مشکلات در تهران می ماند؟

ما از مقامات جمهوری اسلامی انتظار داريم. نه اينکه يک بچه بيست و سه، چهارساله را ببرند، با اتهامات دروغين ۱۵ سال زندان بدهند و آنجا نگهش دارند. ۱۳ ماه او را در انفرادی نگه دارند تا کليه اش از کار بيفتد و الان هم اجازه ندهند که تحت درمان قرار بگيرد، خودشان هم برای درمانش اقدام نکنند؟

يا در دادگاه انقلاب ، شعبه ۲۶ که اين رای را صادر کرده ، نبايد به وکيلش اين رای را ابلاغ کنند؟ اين رای حتی به تجديد نظر هم رفته ولی به وکيلش ابلاغ نشده است.

زمانی که ما ۳۰۰ ميليون تومان وثيقه برديم ولی اجازه آزادی اش را ندادند، وکيلش آنجا لايحه نوشته بود و در پرونده اش گذاشته بود. اما لايحه را از توی پرونده اش برداشته بودند.

من از مسئولين جمهوری اسلامی برای آزادی فرزندم و اثبات بی گناهی او، تقاضای رسيدگی به پرونده ايشان را دارم. اين آخرين کلام من است.
Leave a Response