MPP in Ontario, Canada Gives Speech at Neda's 27th Birthday
February 08, 2010
Reza Moridi's speech at Neda's 27th birthday
—
Mel lastman Square. Toronto, Ontario, Canada. January 23, 2010
Neda's Bithday
Note: Neda's fiance Caspian Makan was also present at this ceremony.
Speaker: Dr. Reza Moridi, MPP of Richmond Hill in Ontario, Canada.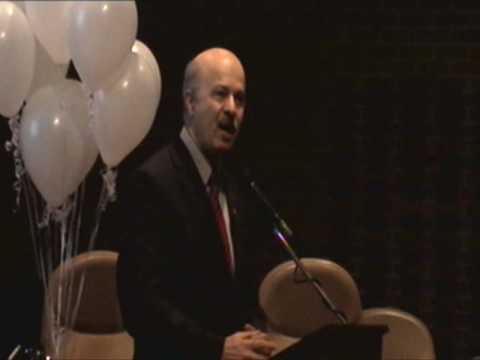 ALSO:
In April 2008, Reza Moridi was able to pass a resolution that officially recognizes Norooz as a holiday in Ontario, Canada.
Reza Moridi: I would like to thank all of you [for coming], as well as those who have organized this event.
The Islamic Republic regime has been dictatorial and oppressive toward Iranian people since its conception. Acts of dictatorship and suppression are intrinsic and permanent aspects of the regime. Religious despotism was established after the 1979 revolution by the mullahs (some in clerical clothes and some without) who stole the Revolution [from the people].
We have seen many despotic regimes in the world. In recent history we witnessed Saddam's regime in Iraq, Pol Pot in Cambodia, Milosevic in former Yugoslavia, and many others; however, none have been as bad as the religious dictatorship of the Islamic Republic. The same way regimes of Hitler, Pol Pot, and Saddam collapsed, the dictatorship of Khamenei, Ahmadinejad, the mullahs, and non-mullahs will not last very long. It only needs time. We have to be patient so that the Iranian people can conclude the movement they have started.
My friends, it will not be long before this movement bears fruit. Nobody ever imagined that Saddam would be one day dragged out of a rat hole; nobody ever imagined that one day Milosevic would be arrested and tried in Hague where he would die of a heart attack in a prison cell.
Human beings want to live free, and those who resort to oppression against people shall be punished. A system that has been established on the basis of repression and dictatorship shall rot from within. We will see the same fate for the Islamic Republic regime.
As you have heard, Hashemi Rafsanjani said in a speech in the city of Mashad, "If people don't want us, we will go."  Well, we would like to tell Mr. Hashemi. Listen  up! Listen up! Iranians do not want you! How else are Iranian people supposed to tell you that they don't want you? You have cut the people's tongues. You have imprisoned the journalists. You shoot people in the streets as though they are part of a game. Your prisons are filled with young and old men and women. We see mothers give birth in prisons. How else are we supposed to tell you that we do not want you?
The movement for freedom that we see in Iran today started more than 100 years ago. Iranians rose for democracy and their rights at the time of the Constitutional Revolution (1905). Unfortunately, the constitutional movement failed. After this, we witnessed how Reza Shah limited the constitutional characteristic of monarchy. And in the aftermath, Iranians never sat silent. They rose again at the time of Dr. Mossadeq.
Iranians protested for democracy and their rights in 1979, but unfortunately, this time around their movement was hijacked.
Now, Iranians are more aware than ever. Iranian people will not allow any group or political party take away their movement for freedom and democracy. This is the call we make to all groups: Iran belongs to all Iranians, from Kurdistan to Turkmen Sahra, from Baluchestan to Azerbaijan, from Khorassan to Lorestan and Bakhtiari, to the Persian Gulf. We will stay Iranian, from Gilan to Mazandaran.
We are looking forward to a day when Iran's name will be known simply as Iran, without any prefix, suffix or adjective. An Iran where religion and state will be separated but we will respect all religious belief or lack thereof; an Iran where there will be equality between men and women; an Iran where all Iranians of all ethnicities will be treated equally; an Iran where no political ideology should prevail; an Iran where people will be able to vote in whatever government they want, and vote out whatever government they don't want.
We have to establish an effective management system. We have to establish a civil service system that will be independent from the political leadership. The current system in Iran is one where appointment of a new minister results in complete overhaul of the ministry and officials, and servants of all ranks and positions are changed. This regime since it took power 30 years ago acted against Iran's interest, and wasted all the financial resources, resorted to idiotic foreign policy that has put Iran in a terrible state. They spend billions of dollars on enriching uranium. Mr. Ahmadinejad claims to be trying to get compensation from Western governments for damages done to Iran during World War I and World War II, while they have not even been able to receive any for damages from Iraq.

Translation by: Siavosh J.
Persian2English.com
2 Comments
Leave a Response